Fifth metatarsal fracture refers to a sprain on the bone that connects to the small toe at the forefoot. It makes it difficult and painful to walk, even after treatment. Nevertheless, with the right kind of shoe, you will find it more bearable and easier.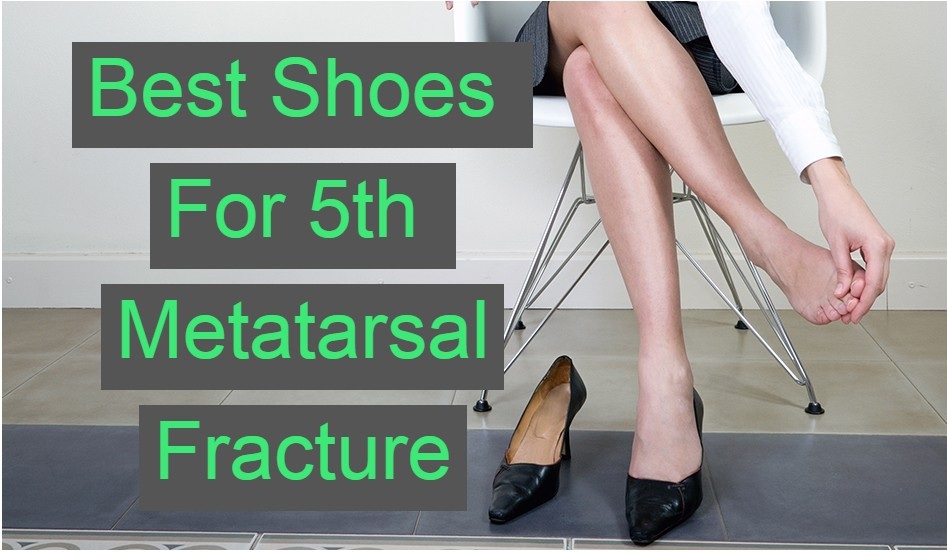 The best shoes for 5th metatarsal fracture should cushion the injured part from further infection, strain and above all, pain. Not every medical shoe or walking boot can be good for your 5th metatarsal fracture, which is where this article comes in handy.
Let's embark on a list of 8 best shoes we found for you.
8 Best Shoes for 5th Metatarsal Fracture
Seeing how disappointing picking a medical shoe for 5th metatarsal fracture can be, we have researched and come up with 8 shoes you can confidently try.
Let's do quick view if you're in a hurry and you can also find the deep review for the best shoes we found for you.
1. BraceAbility Post Op Shoe – Best Shoe for Broken Foot/Toe to Wear Immediately After Surgery
If your injury allows it, immediately after you are released from the hospital you can still walk. This is where this post-op comes in.
This shoe has a Rocker sole, whose non-skid tread provides stability. You will find ease walking on any floor.
To top this up, the sole is rigid, eliminating the stress on the injured metatarsal by ensuring that it remains straight during walking. This, in turn, minimizes pain and pressure hence faster recovery.
In addition, this shoe makes it safe and easy to wear even with your post-op dressing, regardless of the size.  This is through the fastener straps, which you customize in accordance with your bandages. If your foot swells from the injury, you have the option of adjusting the straps to accommodate it.
The insole is foam, which facilitates shock absorption and cushioning.
Lastly, the straps are wide to protect your bandages and wound from dust and dirt.
Pros
Square toe bed for either right or left foot.
Cushioning and shock absorption by a foam insole.
Rigid sole to eliminate pressure on the injured metatarsal.
Bandage and swelling accommodation by the strap closure design.
Protection from dirt and dust.
Cons
The straps do not have sufficient grip.
This medical shoe is closed, to protect your injured foot part from further infection by keeping your bandages clean and dry.
Worried about the space provision? You still have it. The shoe is wide to accommodate your bandages and swelling instances. There are straps at the forefront, which are adjustable to accommodate cast and bandages.
Additionally, the sole of the shoe is rigid rocker, providing your foot with arch support and reducing pain during walking. It is anti-slip, making it safe on slippery floors and paths.
Moreover, the removable innersole provides cushioning of the foot, shock absorption, and minimizes impact.
Better still, the shoe does not have a side. Use it for either your right or left foot, since the toe box is wide.
Pros
Closed toe design, hence dressing protection from dirt and re-infection.
Wide, accommodating dressing and swelling.
Rigid sole for arch support.
Anti-slip for safety.
Cons
Heat build-up is possible in a closed shoe, which is uncomfortable.
3. United Ortho Short Air – Best Boot for Arch Support(Cam Walker Fracture)
United Ortho short walker is the perfect Walker boot if your 5th metatarsal break caused a misalignment. The boot is universal, meaning it is suitable for both right and left feet, and great for both men and women. A sizing chart is available for the specific men's and women's fits.
Uniquely, this boot has air bladders, which offer the required compression and support, making walking even more achievable and painless.
To enhance your comfort and safety, the insole is shock-absorbing, hence injury and pain caused by impact should not worry you.
What's more is that the short boot has a rocker sole, which is tough to enhance natural walking while protecting the metatarsal from strained movement. The walker will enhance arch support, thereby eliminating pain during walking at the knees, ankles and the injured metatarsal.
Finally, the straps that provide the closure ease application and getting the shoe off. You simply slide your foot into and out of the shoe, hence less pressure on your injured metatarsal. The straps further enable the shoe to accommodate bandages and swellings, since they are customizable.
Pros
Provides arch support.
Air bladders that enhance compression and support.
Shock absorption.
Dressing accommodation.
Cons
Should the air bladders stop functioning, the shoe becomes a liability.
4. Mars Wellness Premium Post Op – Broken Toe/Foot Fracture Square Toe Walking Shoe: Awesome Choice for Wide Feet
The Mars Post Op shoe is in large size, accommodating men with large and wide feet, not to mention overly swollen feet.
Firstly, the shoe has a square toe, which not only allows it to be worn on right and left feet but also acts as a bumper against toe injury. Therefore, it is a form of protection.
Second, the sole and design of the shoe allow you to keep the bandages and other dressing dry, which facilitates recovery.
Third, proper foot positioning and stability are obvious, given the heel padding and ankle strap. Hence, you feel safer in the shoe.
Fourth, the sole, which is rocker, provides sufficient traction hence guarantee you safety from accidental slippage.
Fifth, the shoe has adjustable straps that allow for customization to allow bandages and a swollen foot, not to mention easy on and off the shoe without hurting the injured part.
Finally, the removable insole available provides for foot cushioning and protection from impact.
Pros
Large and wide for the larger feet.
Takes care of feet stability and structure.
Sufficient traction.
Accommodates bandages and swollen foot.
Cons
Not for narrow and smaller feet.
This BraceAbility toe boot has rigid polymer plastic, which is in the inside to provide your injured foot with protection and support. Since the shell covers both sides of the foot, the 5th metatarsal is at a strategic point to benefit.
Besides that, the boot features a deluxe foam liner, which cushions your foot against impact and injury. Likewise, the wide toe bed and open toe design will ensure your foot is safe and free from any pressure.
The rocker bottom provides for the required rigidity for arch support. On the other hand, its low profile makes brings you the natural step that seems impossible with a broken metatarsal.
Over and above all is the fact that this shoe is perfect for an almost immobile foot. It protects the foot while treating it, ensuring you can walk painlessly. The straps, which are adjustable, bring you the required accommodation for bandages and swellings.
Pros
Support and stability by a hard-plastic shell.
A foam liner that enhances foot cushioning.
Arch support.
Adjustable straps for bandages and swellings.
Cons
Let me guess; your 5th metatarsal is so painful you even fear trying to walk. This forefoot offloading shoe is your solution. The shoe is universal, so whether man or woman, right or left foot, you are good to go.
First off, the shoe protects your forefoot, which the 5th metatarsal is a part off. It features a 15-degree Dorsi angle sole, which shifts all the body weight to the heel, eliminating pressure on the forefoot. Thus, the walking will no longer be painful, and quicker recovery on the way.
Into the bargain is the square toe design, which is more of a bumper against injury and impact, hence cushioning the foot. The medical-grade straps will ensure that wearing and removing the shoe is not a nightmare, other than accommodating bandages and swelling.
Moreover, the removable foam insole protects the foot from shock and cushions it, hence added comfort.
Pros
Least pressure on the forefoot eliminating pain in walking.
Shock absorption.
Straps to accommodate dressing and swelling.
Square-toe design that acts as a bumper against injury.
Cons
The straps are too long that you have to cut the extras.
Are the above types too wide for you because you are a woman, with narrower and smaller feet? We still have you covered. This FitPro post op women's shoe has a square toe, which makes it suitable for both right and left feet.
The shoe has a semi-rigid rocker sole, which minimizes the chances of the metatarsal straining during walking. This consequently eliminates pain and makes walking more fun. The semi-rigidity also allows you to have a natural walk, which will minimize the attention the foot gets from others.
You can open the forefront completely to wear or remove the shoe, making it painless and less stressful. Moreover, the straps closure system allows you to use the shoe while still in dressing.
Pros
Specially made for women, hence small and narrow feet sorted.
Semi-rigid sole for a natural walk, while eliminating pain.
Adjustable straps for easy wearing and removal.
Cons
The sizing is too small for even the medium feet.
Want a medical shoe that looks like a regular shoe from afar? Get Vive post op trendy medical shoe. It is universal, hence fits both right and left feet, men and women.
First and foremost, the shoe comes with wide adjustable straps, which easily accommodates your surgery and injury bandages. You can flip open the straps completely, so that you only have to place the foot straight into the shoe. This saves you from stressing the injured metatarsal.
Fundamentally, is the rocker sole tread that is slip-resistant that the shoe features. This ensures your safety during walking, despite the condition of the flooring or weather outdoors.
Also, the shoe has a wide toe box, which provides for spacing between the toes. Hence, your injured metatarsal will not have pressure from the forefront, hence quicker recovery.
Lastly, the shoe is very light. You will easily achieve a natural walk, in contrast to a walking boot. You don't have to adapt, because the shoe is so much like your regular shoe.
Pros
Gives a natural regular shoe outlook.
Wide toe box for space and pressure minimization.
Ease wearing and removing due to the design.
Accommodates bandages, swelling and cast.
Cons
The straps are too large, you may have to trim them.
Which is Best for Broken Toe; Shoe or Boot?
I would say that this will depend on the intensity and type of fracture. Moreover, the freshness of the injury also matters.
Immediately after surgery or treatment of a broken toe, the doctor will recommend a walking boot, unless the fracture is minor. You will have to wear the boot for a few weeks, probably less than a month. The boot will help keep your foot straight and under less pressure during walking. hence, your toe will heal faster.
After this, you will transition to a medical shoe. You can use the medical shoe until you are well-recovered, after which you will get back to a regular shoe.
Which Things Should You Consider When Buying Best Shoes for 5th Metatarsal Fracture?
Size
Getting a perfect size prevents strain and pressure on your injured metatarsal. Enure you confirm that the size will handle your new foot, probably swollen, bandages and cast.
Sole Rigidity
Sole rigidity is essential for an injured foot. Why so? When a part of your foot is injured, walking with your foot straight minimizes strain and subsequent pain. Moreover, a rigid or semi-rigid sole offers some degree of arch support, which in turn prevents joint pains after walking.
Material
The material of the shoe is an important part of the shoe you choose for your metatarsal fracture. Reason? Your foot is injured, and you cannot afford to leave space for accidents. A shoe that gets damaged along a staircase or as you walk may take you back to hospital.
If your metatarsal is badly broken and needs realignment, a shoe that will offer support and stable cushioning is best for you.
Design
An open shoe is the preference of many, especially if you just came from surgery. This design eliminates hot spots, pressure and heat build-up. Moreover, sweating is minimized in open shoes, hence faster recovery.
A closed shoe, especially when recovering, is best to keep off dirt and realign your broken metatarsal. Thus, your condition will determine the design you choose.
Insole
When you have a broken foot, then you need all the cushioning and shock absorption you can get. You don't want to walk carefully and still get a foot blister. This is why getting the right material for your insole is of essence in your medical shoe.
FAQ
Can you walk on a 5th metatarsal fracture?
Yes, you can. However, it is good to consult with your doctor, to see if walking is alright for you. And even if it is okay, walk for short distances, and rest often to facilitate your recovery.
How long does it take for a fifth metatarsal fracture to heal?
A 5th metatarsal is a bone, and bones take approximately 4 months to heal primarily. Then you still have to take care after that for some months to completely recover.
Is it okay to walk on a broken metatarsal?
Yes, it is okay, but again, dependent on your fracture condition. If the doctor gives you a go ahead, then by all means go. however, you should use a medical shoe to aid your mobility and recovery.
Which type of shoe is good for broken feet?
Orthotic walking boots and shoes are the best for broken feet. They are made specifically to help you in walking, while ensuring minimal pressure on your foot to enhance healing.
Final Word
Now consider it this way; you have a collection of 8 best shoes for 5th metatarsal fracture, in addition to considerations you should put into place. What are you waiting for? Go for your shoe and get to enjoy a walk as you recover.
Related posts: